Analysis: Understanding the Business Need
The pre-existing challenge (as is present in so many organizations today), is that training departments take an "order taker" approach to learning and development. In other words, when a business department, like sales, or legal or finance, identifies a problem in their flow of work, they often turn to those who produce training with a request for a solution in the form of learning content. For better or for worse (but hopefully, in their best efforts to be helpful!) oftentimes an L&D department delivers the training requested, opposed to considering the true business need and engaging in a valuable business needs analysis assessment to understand what the correct intervention could be to solve the business problem – it may be a training/development solution…but sometimes, it is not.
Here's the results of the original needs analysis we conducted with the sales team within Nestle Waters.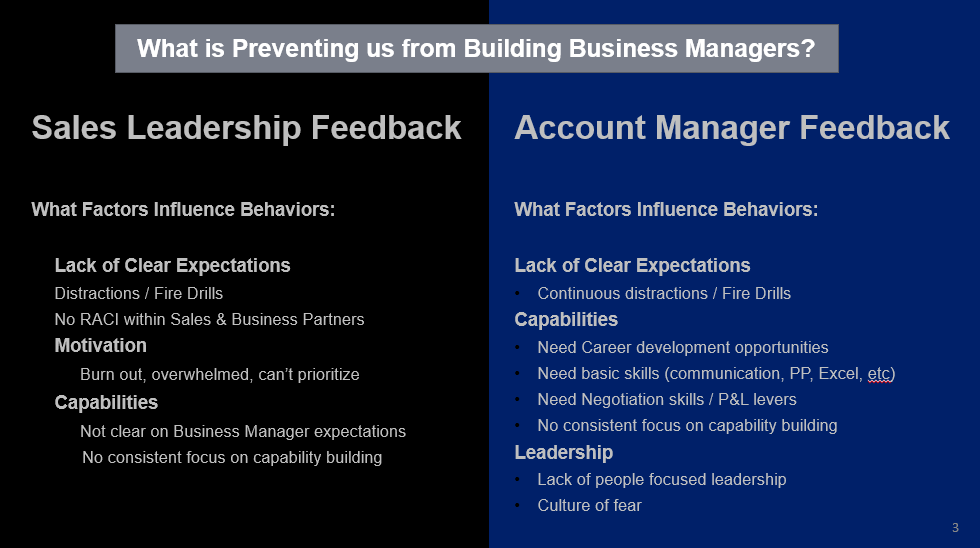 The elements of the above capitalize heavily on the Five Assumptions of Adult Learners and Four Principles of Andragogy suggested by adult education expert, Malcolm Knowles in 1981 (Pappas, 2013).
Design & Development:
Technology Considerations
Because I wanted users to freely interact with the content on their own time, this precluded e-learnings, Rise courses…your typical types of e-learning. After all, learning interventions do not always have to be largely produced e-learning modules, long training videos or days long facilitation of a scripted course. Considering the wide variety of content learners needed to access (and knowing the content would live without compliance deadlines and expiration dates, this meant the learning content would need to exist independent of our LMS, which was not mobile-friendly or easily searchable. Considerations needed to be made for ease of maintaining and updating. For all of the reasons above, I knew that our current LMS would not be the ideal choice for hosting this type of learning environment.
After much research into what types of technology could support this educational and skill initiative, I explored whether a website-based delivery could work for this project. In this case, it would be a SharePoint site that was hooked into our internal systems. SharePoint is easy to access from all of our employee's mobile phones and devices as it acts like a website. It's also extremely easy to manage on the backend and keep updated. Additionally, it would be an easier project for me to keep running as I've built dozens of websites before and am fairly knowledgeable in HTML, CSS and JavaScript. Working with our internal IT team, we were able to produce the site.
Design and Framework Establishment
With the technology capabilities and delivery system figured out, we could now launch into development within the parameters of the delivery system. As I explored how I wanted to start framing out the project, I first started by exploring what instructional methods our sales team might already be knowledgeable about. Did I have to reinvent the wheel? Were there methods already in use that traced back to our company values and culture that I could capitalize on (especially if they included existing resources that could make this project come to life even more efficiently)? It's important to note that corporate learning and development prizes efficiency and time-saved; they are a large part of ROI. Thus using pre-existing materials or ideas (if they have already been successful) and building on those to increase speed and efficiency, can be a winning strategy. Nestle Waters, from a global perspective, often incorporated the 70-20-10 learning method established by Charles Jennings into it's learning and capability-building development programs. This method was effective because it was not just a learning framework but a behavior-building framework that focused on creating new practices through experiences, relationships and formal education. Since the goal was to create and evolve performance and behavior, and since our company was already using this model, this model became the framework for the project.
Building Skill Me Up
Using the idea for a 'choose your own adventure' layered on top of 70-20-10, our goal was to align this back to our internal sales capabilities. Understanding how the audience of learners is evaluated, what their performance metrics are and the skill gaps expressed during our needs analysis helped us to understand what areas to pinpoint. We would create different business capability categories that our learners could choose to focus on, and through a series of experiences (70), mentorships/relationships (20) and formal learning opportunities (10), they could create their own learning and development paths, completely customized just for them, but that would still lead to the same result of increasing their sales capabilities.
We also knew the providing just a library of courses would overwhelm our learners; clear and present sequencing and organization is tremendously helpful as a learner begins their learning journey. And so, we repurposed a pre-existing internal competency wheel to create our own 'sales function competency wheel' that would help our employees understand where their skill gaps were and would allow for us to better organize their training path. This wheel was also adopted into the assessment tool we built so that learners could identify which focus areas of the wheel would need to be prioritized (more on this later).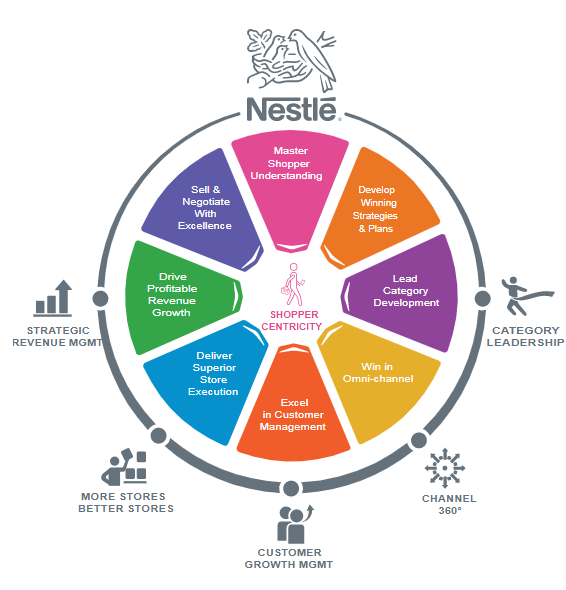 Once the competency wheel and 8 areas of focus were validated by our leadership team, we needed to determine the criteria of each competency. If a learner was fully competent in 'Win in Omni-Channel' competency for instance, what did that mean? What did that employee know how to do? What defined them as fully competent? By defining these criteria, we could then work backwards to define the 70-20-10 skill experiences, relationships and formal learning opportunities needed to round out their development and get them to those ultimate high-performance criteria levels. I use this work backward (or 'begin with the end in mind') approach often in instructional design and providing business solutions / interventions. How can we know where we're going if we don't know where we're headed? If we haven't defined success at the beginning, how we can determine whether a project was successful or not? By determining this criteria ahead of time, not only could we determine what success looks like but we could start to implement ways of measuring these criteria to demonstrate improvement in behavior.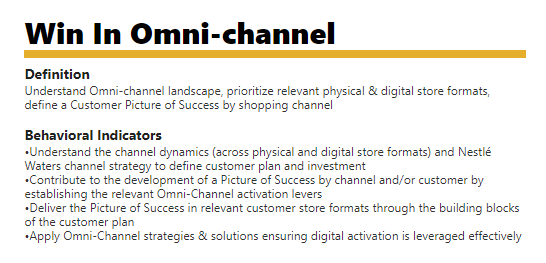 Once the criteria of success was established for each competency, work began on identifying the experiences (70), relationships/mentoring opportunities (20) and formal learnings (10) that would ladder back to their competencies. For this, we formed partnerships with 2 – 3 high-potential employee performers for each of the 8 competencies across our sales teams. How did they get to be experts within a specific competency? Who were they mentored by? What did they read in their free time to stay in the know? What experiences helped to shape their success? My goal was to pull as much information as possible from our high-potential individuals who could provide us the content to create our 70-20-10 library. I underwent various intake sessions, interviews and analysis conversations to piece together the beginnings of the 70, 20, 10 checklist for each one of the 8 competencies. This took about 1 – 2 months of research. The 70 and 20's were somewhat easier to come by because the individuals identified as highly-capable in these areas were able to dictate and elaborate how they learned, what experiences they learned from and who they partnered with to learn from. However, the 10's (or the formal education pieces), required a bit more in-depth research. (Interestingly enough, you can see that the subject matter experts had more experiences and relationships to suggest since they had learned more from their experiences and mentors…which proves the 70-20-10 theory in and of itself!).
For the 10% formal learning, I knew that I wanted to split the formal education piece into different learning modalities to personalize it to our employee's preferred learning style. Thus, 'Watch', 'Read' and 'Listen' categories were created, so that students were able to engage in the type of content that they had a preference for. In collecting all of the different types of formal learnings in these categories, our subject matter experts vetted each one. The added benefit of involving our learners in this process meant that we were adding internal stakeholders to our project that would help us to champion this around to the sales team…It became a "built by sales, for sales" mentality. The personal investment of time in helping to create this created a stronger alignment among our high-performing sales team members and they helped us to make this successful upon its launch.
Design of the Library and Website
As we continued to gather resources, I started to build the library in partnership with our IT team. A library was the perfect name for the site concept because it suggested that learners could utilize the site as they would a normal library: they could take the assessment, identify the skill gap (which would provoke them to pursue spending them to develop that skill), select the skill they wanted to work on on the site, and they could select the materials they wanted to engage with and they could essentially create their own learning path by compiling together different experiences, relationship and formal learning opportunities to create a customized learning path that would help them skill up within a specific competency area! As the project was pieced together and the concept of how the library would work, the visuals started to come together. I used PowerPoint to mock up how I envisioned the website to look and how it would work. I was able to pass along the mockup to IT and they built the framework of the site.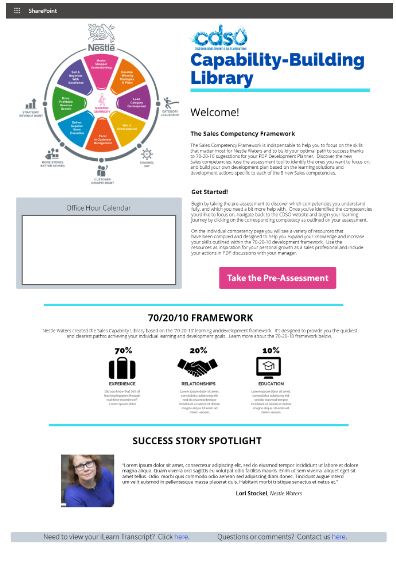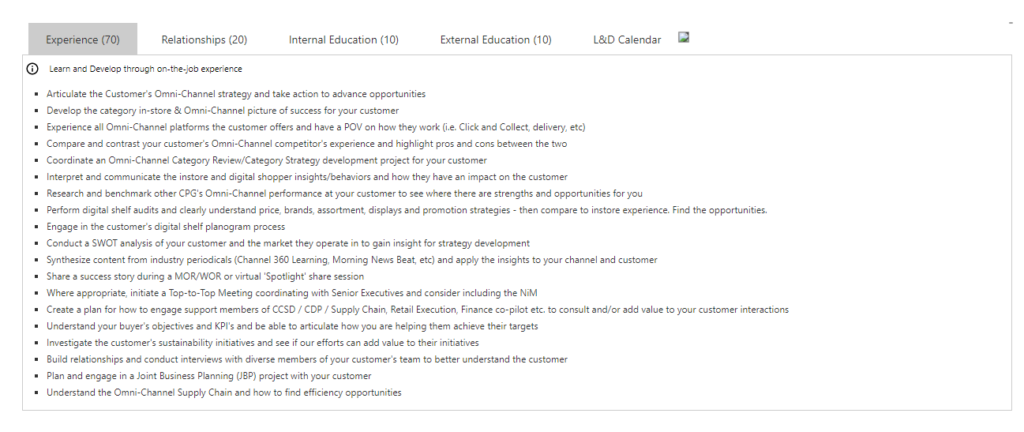 70% Experience Library Layout

20% Relationships/Collaboration Library Layout

10% Formal (Internal) Learning Library Layout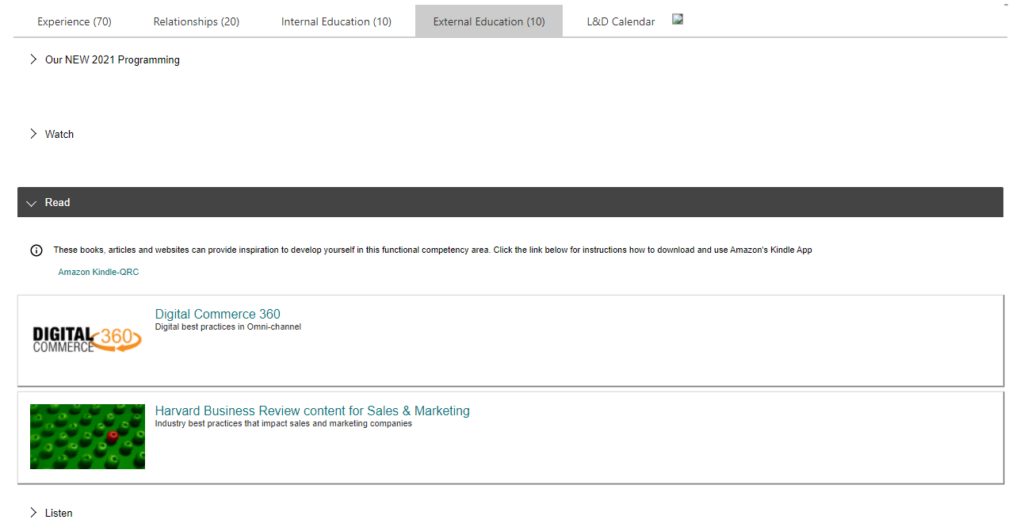 10% Formal (External) Learning Library Layout
Additional Considerations
Pre-Evaluation: Similar to the point I made before, how can you begin if you don't know where to start? As I launched this tool, I wondered how our adult learners would know where to begin their learning journey. Would they be overwhelmed at all the choices? How could I gently guide them to start in the place where they need to skill up the most? In order to address this challenge, I made a very simple pre-evaluation tool in Microsoft Excel. Utilizing various Excel formulas, this tool allows the learner to answer just two questions for each of the 8 competencies, and based on their answer to the 2 questions, the form will give them one of two responses, one of which will tell the learner that this particular competency might be a great place to start learning. I made this pre-assessment form simple because we tend to use a lot of complicated assessment forms in our company that tend to overwhelm learners and I didn't want to take that approach. I simply wanted to give learners a launching point so that they could understand a few places where they could begin their journey but still have the choice of exactly where to start.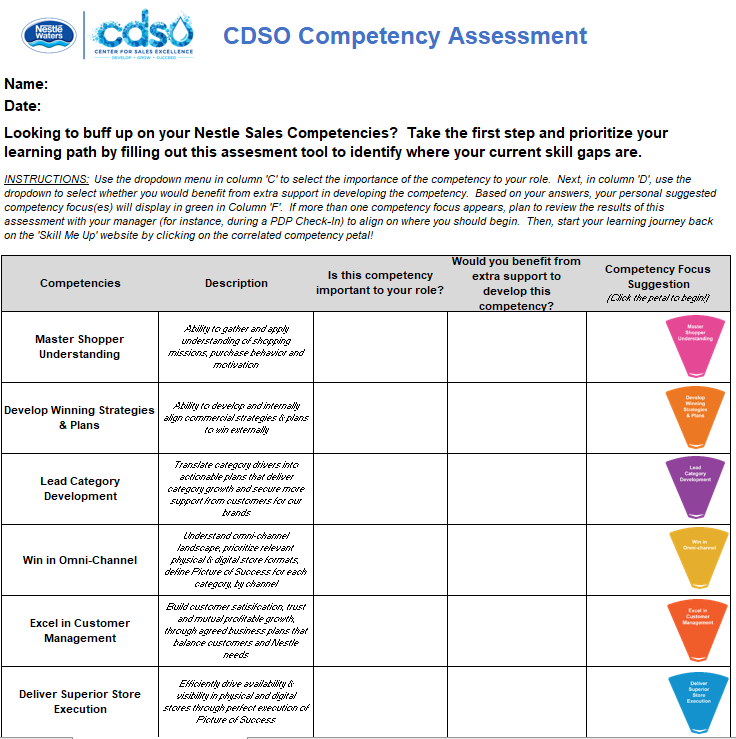 Pre-Launch Survey: Before the actual Skill Me Up SharePoint website, I wanted to poll our audience of salespeople to get a better understanding of whether the project I was working on would have any merit or meaning to them. Not only that, but I wanted to gather information on my learners: I wanted to get a better understanding of where they would like to focus their learnings (out of the 8 pre-defined competency areas), what types of learning materials they most liked to engage with and learned best from and how much time they had to dedicate to learning each week. I found deploying this survey was extremely helpful in creating and sourcing materials for the library site. For instance, I found that a majority of our learners typically preferred to learn best from videos.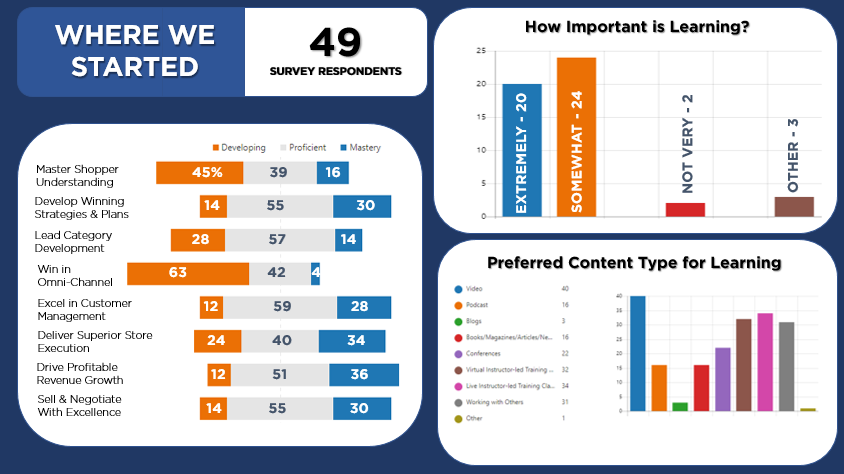 Armed with that data, as we built out the 10% formal learning area of each competency, we focused on finding more video content vs. Read and Listen materials. I sourced more YouTube links and relevant news clips and TV segments instead of blog articles and audio podcasts. One of the other pieces of information I learned from deploying this pre-project survey was that our learners only had about 20 – 30 minutes of time per week to dedicate to learning. This meant that including long videos, or lengthy articles or other learning materials that surpassed 10 – 15 minutes or so was out of the question. In order to keep my learners motivated to learn, I had to build the content for them and around their needs, so I focused on small micro-pieces of content in order to meet that. These were just two the ways that I used learner data to make better informed decisions about this project, and I truly believe that it helped to make this project the success that it was.
Implementation
Internal Marketing: I firmly believe that learning practitioners or those involved in learning and development need to wear a variety of hats and have multiple skills. As you can see from reading this write-up, one needs to be skilled not just in instructional design methodology like collaborating with subject matter experts, doing information interviews, matching needs with instructional frameworks, but also in understanding how technology helps to deliver these learning pieces and how that will affect the designer, the learner and the future of the learning material. You need to be a researcher and investigator to find different types of off-the-shelf content to help learners learn. And, in the case of implementation, you also need to be a savvy internal marketer. Essentially, how do I get my learners excited about engaging in their learning and development? How do I get them to see the value? How do I engage their hearts and minds so that they are motivated to learn and skill themselves up in an area where they have a skill gap? For this, I had to determine how I was going to market this project internally, which meant getting key leadership stakeholders on board and providing them with discussion materials on how to talk to their teams about the site. I also had to utilize the communication mediums we have available at our company (e-newsletters, digital bulletin boards and internal social media sites) and create a communications strategy for each one of these to surround our learners with messaging encouraging them to get involved. And I would also need a method of collecting success stories so that I could start creating positive word-of-mouth reputation about the site and how it already was making a difference in some of our early adopter's ways of working. Throughout our meetings with leadership on the development with this process, we asked them to give the project air-time during our National Sales Meeting so that learners could see that strategic leadership was on-board with the project and fully backed and supported involvement in it. Engaging in all of these methods ensured that the project was heavily talked about, promoted and surrounded our sales team, so that they felt compelled to visit it and get started. This approach was successful and supported the adult learning theory of letting adults find their own path to get started and find their own motivations for getting started; we simply just showed them where the information was and let them explore on their own from there.
The tech side of 'implementation' was very minimal, as we did not utilize an LMS platform for this. Part of implementation, however, is ensuring access to material which we worked on with IT to get our sales team access to the SP site.
Evaluation / Results
The project was a resounding success. We had over 1,500+ unique visits and clicks around the site. 149 of our 200 sales people downloaded the assessment.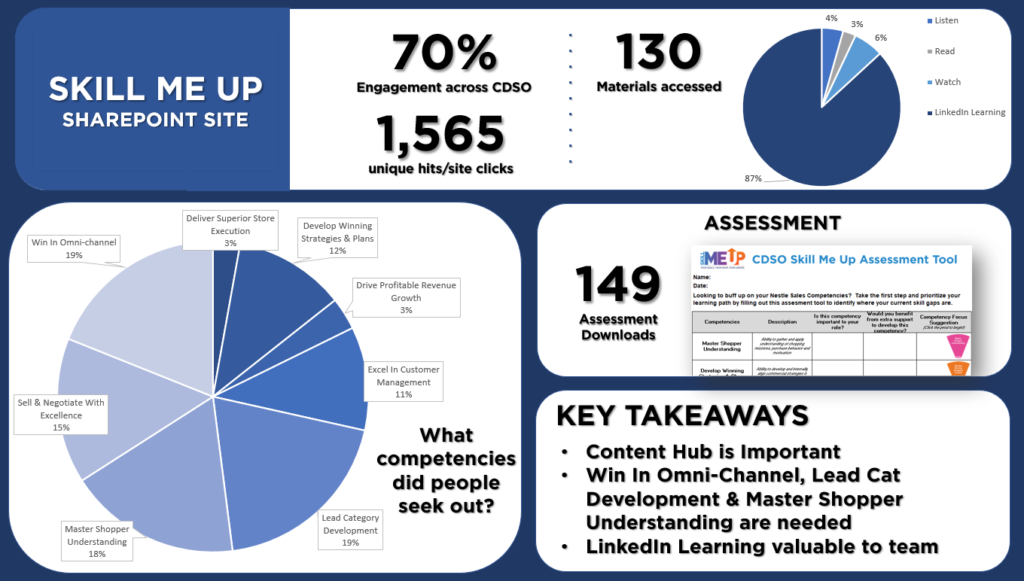 A note should be made that while ideating on the evaluation of the program, we wanted to utilize Kirkpatrick's 4 Levels of Evaluation. But truly, Kirkpatrick's Levels of Evaluation, especially the first two levels (Reaction & Learning) did not apply specifically to this program we had put into place. Besides gathering feedback, it would have been a monstrous task to create a post-learning assessment for every piece of content within our library.
We decided to focus on drawing out Level 3 and 4 results (Behavior and Results), which are often the toughest to identify from a training solution. The results were mostly qualitative and based on sentiment, but they were collected in the form of our internal communications channel, 'Workplace', posts. We asked our sales team to submit their 'Skill Me Up' story and then featured a success story every single week on our Workplace page. We collected enough success stories for 4 months worth of content! Meaning that we had converted employees into being highly engaged with this program, they visited the Skill Me Up Site, engaged with one of the 70-20-10 suggestions on the site to improve their sales skill gap and experienced some sort of improvement from their time spent where they felt compelled to share their story with us! Some resulted in increased sales for dollar ROI, there were higher levels of collaboration from the relationship-building exercises and a sentiment of increased proficiencies across all competency areas for our employees.
Evolving the Original Idea
The website is still accessible and used to this day and is a part of onboarding of our new associates. I continue to add library content and have my original subject matter experts vet any new library materials and content that I find that may be valuable to the site. Overall, I believe that our employees have benefitted from this type of learning and exploring to learn and believe that this approach, overall, was a success!